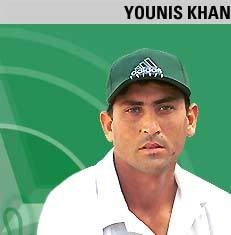 The terrible news is that Younis Khan has been named the new captain for the Pakistan cricket team. Quite a shocking move by the PCB. PCB has been making the like moves over the years, it made captains who actually didn't deserve a place even for the 12th man, let alone the playing eleven, and yet again they have repeated history with a similar move, consider Waqar and Saleem's captaincy at the end of their career.
People may have their own views on his ability and personality as a player, but I have never seen another player leave the ground with the helmet removed from the face even though you were bowled out for a duck. What's even more surprising is that our new captain has never seemed to feel sorry on losing his wicket even at crucial stages. Despite all these shortcoming, this chap is undeniably the happiest and the most fun loving person on the field and even foreign commentators have mentioned it time and again. And though his jolly personality seems to have created a good impression on commentators and players alike I highly doubt if there are many who have felt appreciation for his play.
Whereas Younis' nomination for captaincy marks the darkest day in the history of Pakistan cricket to me, it is high time the PCB should realize the difference between a jester and a player.